One of La Quinta's most frequented gathering places is Old Town La Quinta, and this year, the shopping and dining destination is celebrating 20 years since it first opened in 2003.
In the 1920s, a visionary by the name of Walter Morgan built what, essentially, was the catalyst that sparked the future growth of this community. With just six casitas, a dining room and a lobby initially, he named his new desert retreat the La Quinta Hotel.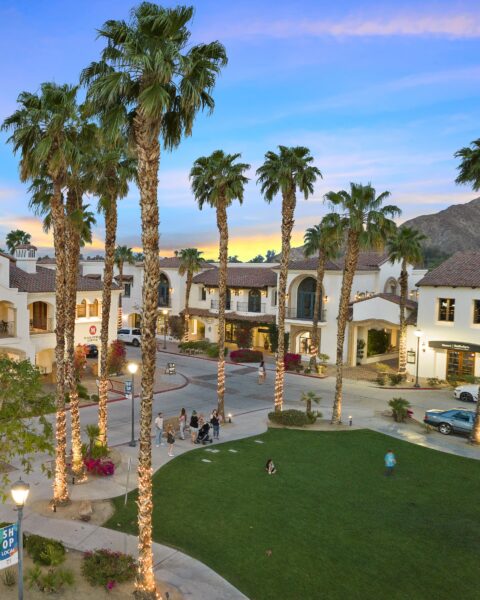 Decades later, Wells Marvin recognized an opportunity to build a restaurant and retail development that would complement the historic adobe-style architecture now peppered throughout the city – which began with the La Quinta Hotel (now the La Quinta Resort & Club, which has expanded to 91 hacienda-style casitas in the past century).
"I wanted Old Town La Quinta to offer a business district that reflected the old-world charm created by the inception of the La Quinta Resort decades ago," said Marvin.
With Old Town La Quinta – for the first time – the city had a real "Main Street" that was lined with a mosaic of shops and restaurants in a setting of early California architecture surrounded by breathtaking mountain views.  It grew to become a one-of-a-kind shopping and dining destination featuring unique boutiques, restaurants, gift shops, salon and spa services, a coffee shop and more.
According to property manager, Katy Abel, many of the businesses have been part of Old Town La Quinta long-term, including Stuft Pizza Bar & Grill – which has been in its location at the corner of Main Street and Avenida Bermudas for 19 years, almost since the beginning. What's more, Stuft Pizza is currently wrapping up a complete remodel of its patio with expanded shade and wind protection.
Most businesses within Old Town La Quinta are owned and operated by people within the community, and it's worth noting that there are no national chain stores. There is only one vacancy currently available in Old Town, so it is nearly fully leased. This showcases its appeal to those looking to stroll and spend the day shopping, dining, pampering themselves with beauty, hair or nail services, exploring opportunities with real estate companies on site, doing yoga, stopping for ice cream or coffee, and more.
Home to seasonal events including a Farmers Market every Sunday through the end of May and Art on Main Street on select Saturdays, watch for additional Old town La Quinta events that will be held in the coming months as part of the 20th anniversary celebration.
The Farmers Market, which runs Sundays from 8 a.m. to 1 p.m., lines Old Town La Quinta with a wide array of vendors offering locally-grown flowers, fruits, eggs, honey, vegetables, gourmet chef-prepared foods and unique artisan goods.
Art on Main Street brings together a diverse community of over 100 artists, each presenting their masterpieces in an array of mediums including paintings, jewelry, mixed media, photography, ceramics, glass, woodwork, textiles sculptures, and beyond. An Art on Main Street will be happening this month from 10 a.m. to 4 p.m. on November 25, which is also Small Business Saturday.
To learn more about Old Town La Quinta, including full details on all upcoming events and a directory listing all businesses, go to OldTownLaQuinta.com.