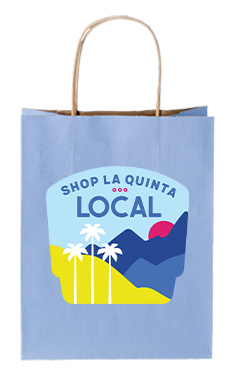 Shop Local Program
Did you know that small businesses make up about 70% of the City's estimated 580 shops and restaurants?
To celebrate these businesses, the City's new Shop La Quinta Local campaign offers discounts and LQ swag to residents and visitors who shop and dine at participating businesses.
La Quinta swag that includes one-of-a-kind hats, totes, and pennants with the Shop La Quinta Local logo are among the gifts participating businesses will give away.
Another way to support La Quinta's small businesses is by shopping local on Small Business Saturday, which is coming up November 25. Many of the community's small businesses will be offering special deals and discounts for Small Business Saturday.
Buying from specialty shops and restaurants in La Quinta supports the owners and their employees while boosting the local economy with tax dollars that stay in the community.
More info: PlayInLaQuinta.com/shop-local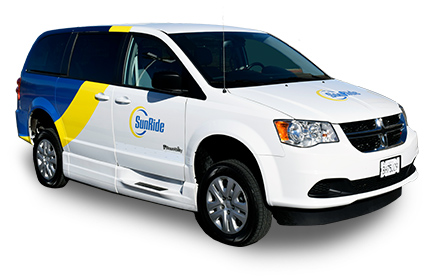 SunRide
SunRide has arrived in La Quinta! This on-demand rideshare service is the newest transportation option offered by SunLine Transit Agency.
Rides are booked using an app within different geo-fenced zones in the Coachella Valley, and it is now available in La Quinta. SunRide connects riders to SunLine's fixed route network or a number of other points of interest within the same zone.
Riders use this service with a smartphone app, which will call for a SunRide vehicle (a small neighborhood-friendly van), Monday-Friday 5:30 a.m.-6:30 p.m.
The app will identify the 'virtual stop' nearest you, then meet your driver. Once you enter the SunRide vehicle, your driver will take you to the destination you booked within the app.
The SunRide app can be found in your App Store. Cost is $3 per person, per trip.
More info: SunLine.org/SunRide or call (760) 343-3450
La Quinta Art Celebration
Twice per year, the La Quinta Art Celebration fills the La Quinta Civic Center Campus with world-class artists, the finest in local culinary delights, live entertainment, top shelf bars and Napa Valley wines.
The La Quinta Art Celebration "Encore" is coming up November 16-19, 2023. This multi-day arts extravaganza allows attendees to engage with the artists and learn about their inspiration and techniques.
The event has been named the #1 Fine Art & Fine Craft Event in the Nation in 2022 by Art Fair Sourcebook as well as Favorite Outdoor Art Festival by Southwest Art Magazine (Reader's Choice) in 2023.
The La Quinta Civic Center Campus is located at 78495 Calle Tampico. Event hours are 10 a.m. to 4 p.m. Admission is $25 for an adult ticket valid for all four days of the event.
Learn more: LaQuintaArtCelebration.org.